Your First Appointment at
Carlton Dental
The first thing that you will see when you come into Carlton Dental is our lovely reception staff, who will greet you with a warm smile.
If you have not completed a new patient form via Hot Doc or HealthEngine you will be given a new patient form to complete.
Our waiting room has a refreshment area, where you can have nice chilled water or enjoy a coffee before or after your dental appointment.
We welcome our patients with relaxing music and scented diffuser to settle the uneasiness that we know going to the dentist can bring up.
At Carlton Dental our dentist and our staff treat our patients as if they were part of our family. We do not believe in rushing and want everyone to feel comfortable before commencing any treatments.
If required we will let you know if having x-rays taken will be needed in diagnosing. After the initial examination and going through photos and possible x-rays we will commence a thorough clean.
Our appointments range anywhere between 30 minutes – 1 hour, customised to every patient's need.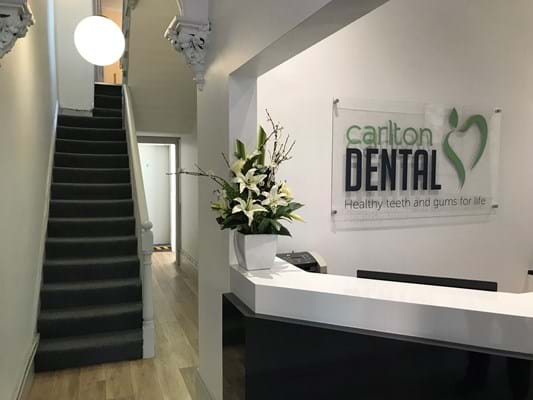 We start the appointment by checking the following things:
Your Content Goes Here

Past dental history

Oral hygiene instructions

Jaw function – Clenching and Grinding

The health of your gums

Interproximal spaces of the teeth

Oral health screening